Who is online?
In total there is
1
user online :: 0 Registered, 0 Hidden and 1 Guest
None
Most users ever online was
201
on Tue Dec 10, 2013 6:59 pm
Top posting users this week
Top posting users this month
Timezones
Pacific Time Eastern Standard Time Mountain Time Central Time Zone South Africa United Kingdom Atlantic Time

just a wickle disclaimer before we start~
-----------------------------------------------------------------------
So...
The last article. Bit of a surprise, I'm guessing?
Whale, it is April Fool's Day. Who can resist?
Enough emojis, this is SRS BSNSS
 (oops)
------------------------------------------------------------------------
Last night I couldn't sleep. I was thinking about this, Reporter, Reporter, Reporter. I was thinking two things, first of all, I WANT THAT JOB. Second, I'm being selfish

 , I want to wish everyone else a good luck too! (it took me ages to get to sleep xD)
This morning, the first thing I did was rush down to the computer and check for updates. None so far. I was kind of gutted, but I had to just keep patient. I kept going and went to school.
Lunchtime. I dug my phone out and went on BC to check once again. Nothing. Now since I am a VERY impatient person, I was getting irate. I just wanted to see who got the jobs! But I managed to stay patient and wait until after school.
When I got home, I was so desperate to see if I got the job I'd been desperately wanting, that I hassled the poor administrators to put up the gazette. So, being the kind people they were, they put it up for me. I was so so excited that I dug into it right away, reading through at a hundred miles an hour. That was when I got held up by a very important page.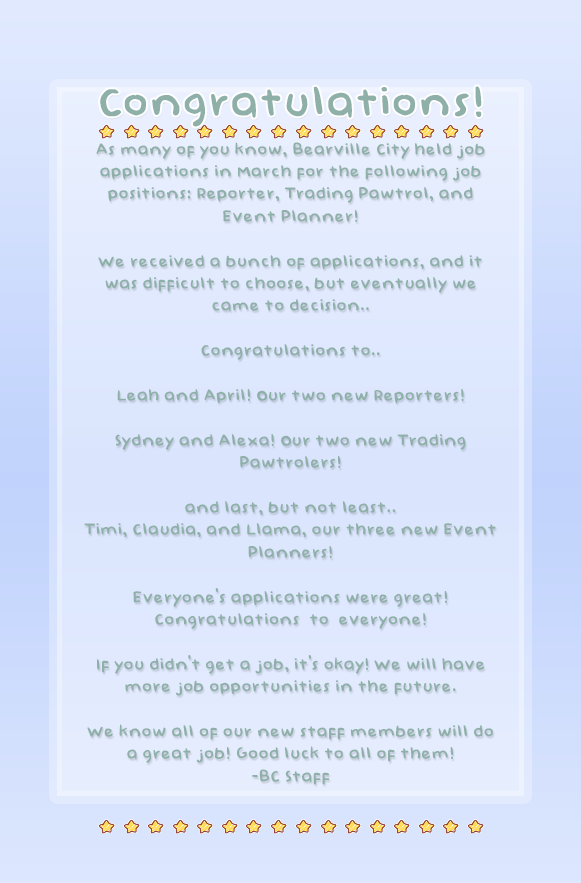 You can imagine my reaction here.
It felt like my insides had fizzled out. I was SO happy to see my name on that page, I was cheering, I was so so happy to get the job. 
Now before I go, I just want to say a few things to the others, because I do care about you guys too you know xD.
To April, Sydney, Alexa, Timi, Claudia and Llama. Congrats on getting your jobs <33
I hope you really, really enjoy yourselves and put all the effort you can into doing the jobs well :3
To all the other members. Thank you for giving it a shot. Remember if you didn't get a job, it's fine, because you are what makes this forum. If it wasn't for you, yes, YOU, reading this now, this forum wouldn't be as big as it is. <33
To Haili, Meghan and Sarabeth. Thank you so much for being such brilliant admins and of course, for choosing me out of all of those amazing application forms. I have been a member of staff on other forums but it has never felt this good. This forum is actually THE best out of every single other one!
(oh and i'm sorry for nagging you to put the gazette up xD)
I promise that I will regularly update the forum with well-written articles.
I promise that I will always do my best work for this forum.
THANK YOU!
~ Leah, proud Reporter<33

amazingleah☆

Reporter





Warning

:


Posts

: 2848


Tickets

: 2743


Join date

: 2013-09-18



This is cute. Congrats Leah! Maybe we could work together to write articles? 

April

Grand Bear





Warning

:


Posts

: 1654


Tickets

: 2777


Join date

: 2013-11-30



Thank you! c:
That would be really sweet, good idea <333

amazingleah☆

Reporter





Warning

:


Posts

: 2848


Tickets

: 2743


Join date

: 2013-09-18



Thank you for putting your time into this article! I shall do one too. (:
Congratulations and thank you so very much! <3

Sydney

Trading Pawtrol





Warning

:


Posts

: 2621


Tickets

: 2630


Join date

: 2013-09-17



You're welcome! I've read it and love it! <3

amazingleah☆

Reporter





Warning

:


Posts

: 2848


Tickets

: 2743


Join date

: 2013-09-18



Congratulations Leah! You have already have shown me what you could do and you're amazing<33 You are my favorite reporter

Hazza

Moderator





Warning

:


Posts

: 54445


Tickets

: 11406


Join date

: 2013-09-17



Omg, tysm Hazza, that means so much to me<3333
You're my favourite Moderator <3333333333

amazingleah☆

Reporter





Warning

:


Posts

: 2848


Tickets

: 2743


Join date

: 2013-09-18



You're quite welcome<33
Omg thank you a bunch dear

Hazza

Moderator





Warning

:


Posts

: 54445


Tickets

: 11406


Join date

: 2013-09-17




---
Permissions in this forum:
You
cannot
reply to topics in this forum