Who is online?
In total there are
2
users online :: 0 Registered, 0 Hidden and 2 Guests
None
Most users ever online was
201
on Tue Dec 10, 2013 6:59 pm
Top posting users this week
Top posting users this month
Timezones
Pacific Time Eastern Standard Time Mountain Time Central Time Zone South Africa United Kingdom Atlantic Time

This is a tutorial on your 
PROFILE
 and everything which you can do on it.
To go to your profile, click the Profile button under the banner.

There will be several different options you can look at in your profile.
1. 

Registration Information:
Username: Your username is the name you login to Bearville City with. It will appear next to Username:*
To change your username, click on the link below:
http://www.bearvillecity.com/t19-name-changing-thread
Just type in the name you would like your username to be changed to, and the admins will do it for you.
To change your email, you need to PM (Private Message) one of the admins. To do this use the links below:
Amber: http://www.bearvillecity.com/privmsg?mode=post&u=2
Haili: 
http://www.bearvillecity.com/privmsg?mode=post&u=1
Savanah: 
http://www.bearvillecity.com/privmsg?mode=post&u=15
(Remember, you need at least 1 post to send a Private Message)
To change your password, click on the button which says "Modify" Remember not to tell anyone your password!
Personalized profile: 
Your status can be anything! Within the rules of course! You can say how you are feeling or what you did today. 
Gender, if you are a girl, tick Female and if you are a boy, tick Male. 
You can also fill in your birthday, location (humorous location, example: Hogwarts), Job/hobbies and humor. 
Contact Field: 
You can leave this blank. 
Edit Signature:
Your signature appears after all the posts you make on the forum.
Your signature can have any information you want on it, such as a picture, quote, link to your trading hut, etc.
Remember to hit save once you've finished editing your signature

Avatar: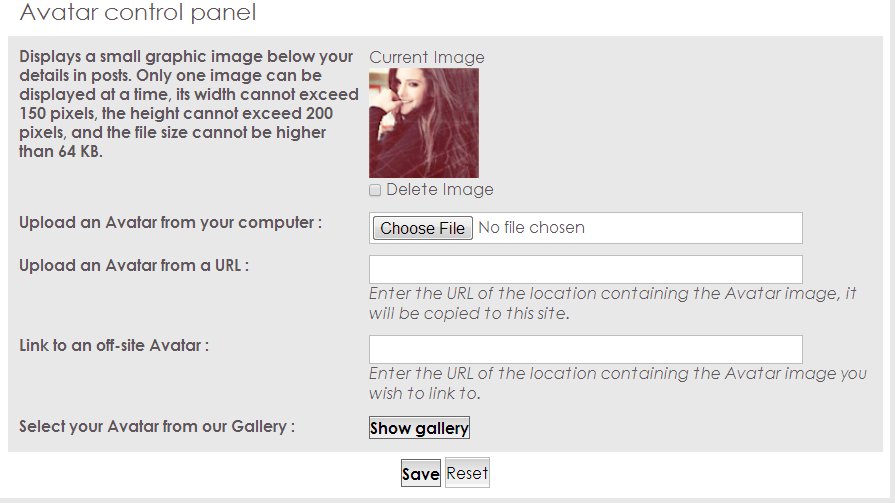 Your avatar goes on the side of all your posts and on the left hand side of the forum as a widget, and it is normally a picture of a celebrity or your Bearville Character.
Example for Avatar:

Friend and Foes:
Your friends List: Shows everybody who you have added
Add a friend: Type in your friends exact BC name (including symbols) Example: Ethan. Then Click "Add"
Requests sent: Once you have added somebody, their name will go to "Requests sent" until they accept you. Once they've accepted you, it will go to Friend list.
Received requests: If somebody has added you, it will go here. Click the + to accept and - to decline.
You can leave the foes blank.
I hope this helped! ~ Anymore questions, just post below <33

Amber

Manager Bear





Warning

:


Posts

: 6134


Tickets

: 4683


Join date

: 2013-09-15



Omggg, nice tutorial! :O Helpful to 'dem members<333

Red

Grand Bear





Warning

:


Posts

: 2668


Tickets

: 13241


Join date

: 2013-09-16



thanks for posting! it is really helpful!! <333 cause sometimes i get confused 

£Hãnnãh

Royal Bear





Warning

:


Posts

: 665


Tickets

: 865


Join date

: 2013-11-27




Hazza

Moderator





Warning

:


Posts

: 54445


Tickets

: 11406


Join date

: 2013-09-17




Bri

Grand Bear





Warning

:


Posts

: 3472


Tickets

: 3451


Join date

: 2013-10-15




janeallheart85

Elite Bear





Warning

:


Posts

: 47484


Tickets

: 13650


Join date

: 2013-10-06



thnx for this but how do i post a bearville picture of me

Anipinkstar

Baby Bear





Warning

:


Posts

: 19


Tickets

: 19


Join date

: 2013-11-30



This helped alot! Lol


Natalie

Royal Bear





Warning

:


Posts

: 858


Tickets

: 669


Join date

: 2013-11-27




---
Permissions in this forum:
You
cannot
reply to topics in this forum